So it's back to school, work and reality for most of us with memories of sun, sea and alcohol fuelled beach days just a fading memory.  But it's a pity the memories can't fade so quickly from our skin.  Days of hot weather and fun  have left many of us de-hydrated, maybe with a few extra sun damage inflicted wrinkles and a tan that is disappearing by the day.  That's why we at Beauty by Revive love the He-Shi Overnight Ageless Tanning balm.  We already love the He-Shi  products in our salon, and it's our go to spray tan, but this new balm does everything in one bottle to restore dry, flaky and dehydrated skin while pepping up your summer colour at the same time.  You wake up in the morning feeling dewy, refreshed and still a little sun kissed.  It's an intense re-hydrating and repairing night cream and a self tanner in one! What more could we ask. Here's more info about how it works and a link to a great review by blogger Beauty and the Boutique ..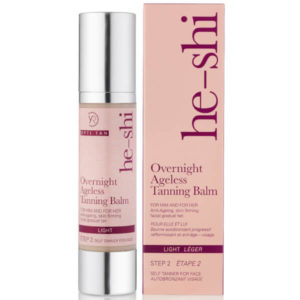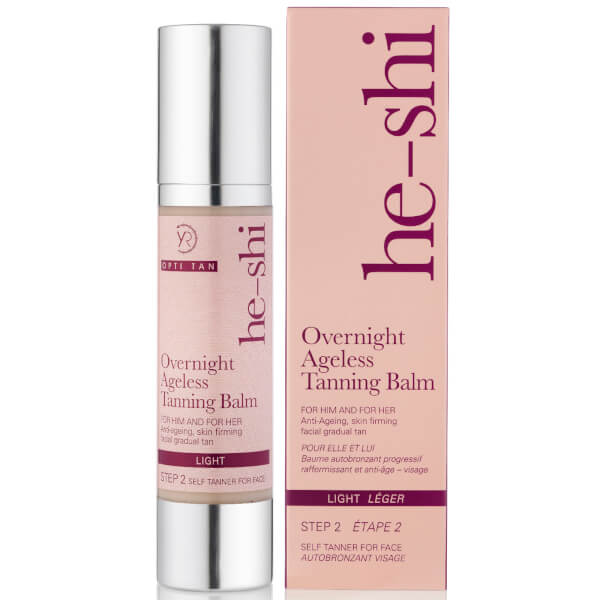 HE-SHI OVERNIGHT AGELESS TANNING BALM is an award winning, luxurious, velvet, anti-ageing gradual tanner, which helps restore the skin's youthful glow, by smoothing the skin's surface and diffusing the appearance of lines and wrinkles when left overnight.The subtle tanning agents work with a blend of Millesis, Jojoba Protein and Hyaluronic Acid which together, boost the skin's moisture and promotes elasticity, helping to prevent the signs of ageing and fatigue.
Created using eco-friendly, sustainable methods, Brazilian Millesis is a pure, plant-derived active anti-ageing ingredient with powerful antioxidant properties. Stimulating the skin's barrier and strengthening cell cohesion, it promotes rejuvenation of the dermis and epidermis for intense hydration and increased firmness
Jojoba Protein repairs and conditions the skin.
Hyaluronic Acid reinforces the skin's-barrier and boosts its ability to attract and retain moisture giving the skin a hydrated and youthful appearance.
Almond Oil smooths skin, leaving a dewy, soft, satiny finish.
He-Shi Overnight Ageless Tanning Balm will help reveal bronzed, youthful, glowing skin.
Contains 100% natural DHA and is a paraben and alcohol free formulation.
He-Shi Youth Revive Opti Tan formulas include moisture lock technology for long lasting results, whilst rejuvenating your skin's appearance to help fight the signs of ageing.
He-Shi Overnight Ageless Tanning Balm contains 3% DHA (active tanning ingredient) and achieves the lightest colour within the He-Shi Range. Great for a natural summer facial glow, fair haired people or those wishing to top up after tanning applications or holidays.
*THIS PRODUCT MAY CONTAIN TRACES OF NUTS. IN CASE OF NUT ALLERGY, DO NOT USE.
The He-Shi Tanning Range :
– Prevents premature ageing through the use of effective moisturising ingredients, to help rejuvenate your skin's appearance
– Is infused with 100% Natural DHA
– Is odourless + streak free
– Is suitable for face and body
– Is Paraben Free + Alcohol Free
– Is pH balanced for sensitive skin
– Is long lasting with its moisture lock technology infused within the range
Directions:
Do not moisturise the facial area before use.
Apply to clean, dry skin using a He-Shi Tanning Mitt for easy application and to protect the palms of your hands from staining.
Smooth evenly onto the face avoiding the eyebrows and blend carefully around the hairline.
Avoid water contact for 6-8 hours while the balm develops.
Applying one layer delivers a light glow, with 2 layers giving a more golden colour.  Simply apply before bed and awake to bronzed, youthful glowing skin.
He-Shi Tip: Much more than just a tan, this luxurious, velvety lotion can be applied before bed, helping to restore the skin's youthful glow, by smoothing the skin's surface and diffusing the appearance of lines and wrinkles.
Here's a little video by He-Shi to demonstrate how it works..
Advanced, cosmetically approved formula, made in the UK to the highest grade.
He-Shi Products are not tested on animals.
He-Shi Professional Products are the choice of tanning professionals across the UK, Ireland and Europe. He-Shi is the solution to all professional salon self tanning needs.