Crystal Clear facial treatments are among our most popular at Revive.   Not only do they reduce lines and wrinkles, but the skin brightening and rejeuvenating effects are startling, making them an ideal treatment a couple of days before a special occasion, such as a wedding.
Salon owner Christine is a fan – here is a before and after picture.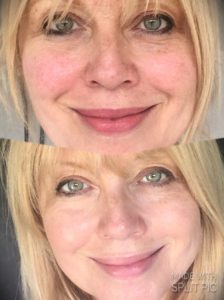 Like many of our clients she uses our popular treatment  COMCIT (Cryo Oxygen Microchannelling Collagen Induction) to give her skin a glowing boost.    It is an intensive treatment using fine needles and Oxygen to plump our wrinkles, clean out the skin and treat with youth giving Collagen which goes into the dermis of the skin – turning back time!
Christine says: "These pictures were both taken without make-up on my skin, before and after COMCIT (the second one taken two days later – I find the effect gets better as the days go on ).  Yes I DO have mascara on – I won't be seen dead in public without my eyes on ( Lol, too vain), but I have no  foundation or concealer on at all and both images were taken on my phone in the harsh light of my bedroom window.   In my other job as a TV presenter I spend days in layers of make-up and under hot lights so I use Comcit to give my skin a real cleanout and firming up session every so often and to give me a glow – as near to turning back time without going under the knife!"
Another before and after from the Crystal Clear images.  This lady looks years younger – do you agree? .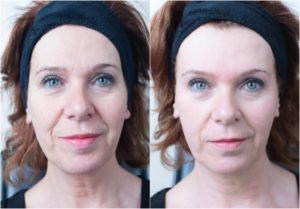 At Revive we also offer the Crystal Clear Oxygen Therapy – a wonderful anti-ageing treatment and great for problem skin and Microdermabrasion – a complete skin resurfacing treatment.
Find out more about Crystal Clear treatments at Revive  here ..
https://www.crystalclear.co.uk/skin-systems/comcit/